How About Mold Cleanup for My Home?
8/24/2020 (Permalink)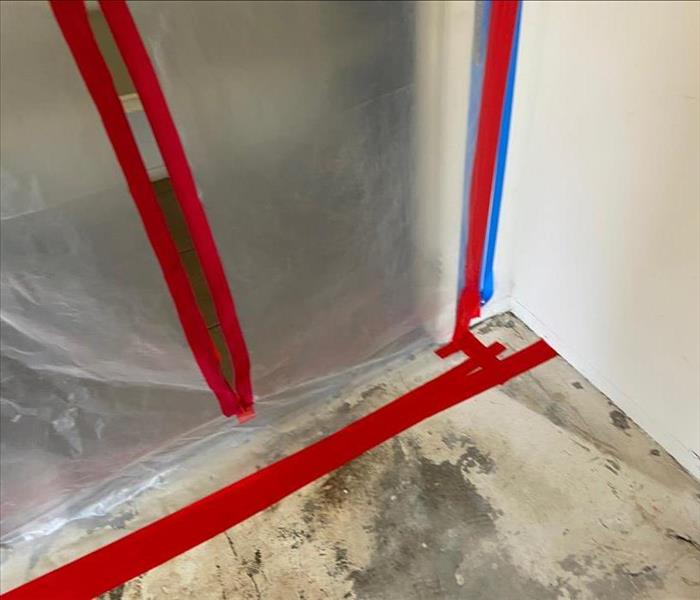 SERVPRO technicians can erect containment barriers to limit cross-contamination during soda blasting mold remediations services in Creskill
Mold Damage in Cresskill Requires Professional Remediation
Cresskill homeowners want to keep their homes clean and free from contamination of all kinds. A clean, fresh home is more delightful to be in – and it also has more curb appeal should you decide to sell. If you're looking for a contractor to work on your home, naturally, you want to work with someone who uses the latest equipment and industry-standard techniques.
Mold damage in Cresskill homes requires swift and professional remediation. If left untreated, mold spores can swiftly spread throughout your home. Mold spores are microscopic, which means they can travel easily on:
Air currents
Clothes and shoes
Pet fur
Shopping bags or luggage
What should I do if I suspect a mold problem?
The first thing you should do if you suspect you have mold in your home is to call SERVPRO. We're Faster To Any Size Disaster, and our teams are on hand 24 hours a day, 7 days a week.
There are many signs of mold in your home. The most obvious sign is the growth of black or dark green mold colonies. You might also notice damp patches on walls or ceilings, especially around wet areas such as the bathroom or laundry room. A pervasive musty odor is another clue that you've got a mold problem in your house.
SERVPRO of Northeast Bergen County trains our technicians in a range of mold remediation and cleaning techniques. One of our most popular and effective methods is soda blasting.
Soda blasting uses baking soda – yes, the same kind of soda you use to bake cakes! We air blast mold-covered surfaces with baking soda crystals. Because baking soda is mildly abrasive, it effectively scrubs the mold from the surfaces.
The baking soda crystals used in blasting are manufactured to be perfect for the job – we do not use boxes of baking soda intended for kitchen use. The crystals are angular when seen under a microscope, so they scrape off mold, but they are soft enough to use in the home.
Why does SERVPRO use soda blasting?
Soda blasting has several advantages:
The soda crystals are soft enough that there is a minimal risk of harm to the underlying surface
Baking soda is chemical-free – how many other mold products are also used in baking?
When combined with an efficient delivery system, baking soda is cost-effective – and that cost-effectiveness is passed on to the customer
Baking soda crystals are easily wiped away after blasting
Baking soda blasting is quicker and easier than scrubbing each surface by hand, so we can cover a larger area in less time without compromising on results
Baking soda is also a natural deodorizer, so using it helps remove moldy smells from your home.
Are SERVPRO technicians trained in soda blasting?
Absolutely. We train all our technicians in the proper use of soda blasting equipment. Our teams know how to choose the correct amount of soda, the best nozzles and hoses, the right air pressure, and the optimum angle for best results.
Why is filtration such a vital part of soda blasting?
When we carry out mold remediation in your home, cleanup is an essential part of the process. Cleanup ensures all surfaces are left fresh and dry, and there is no leftover cleaning product. The same is true with soda blasting. Our technicians wipe away any residue, so all you see is clean surfaces with no mold growth.
However, cleaning up residue after soda blasting is not as simple as wiping the surfaces down. We also use air scrubbers to filter the air and remove the soda crystals. Air scrubbers use powerful filtration to clean the air in your home by trapping microscopic particles. A single machine can cleanse a large area, making them very useful.
Air scrubbers capture both soda particles and any errant mold spores, to leave your home as clean as possible. Using filtration after blasting makes it even more difficult for spores to re-emerge.
What happens after soda blasting?
After soda blasting, we clean and deodorize your home and carry out any necessary repairs (for example, if mold has damaged a door frame or eaten through the wallpaper.) We also monitor the moisture levels in your home to ensure it is dry enough to discourage further mold growth.
It is always our aim to leave your home "Like it never even happened." Our team will follow up with you a week after your remediation project ends, to ensure you are happy with the result and answer any questions you may have.
If you need help with mold damage, call SERVPRO of Northeast Bergen County at (201) 244-0100.